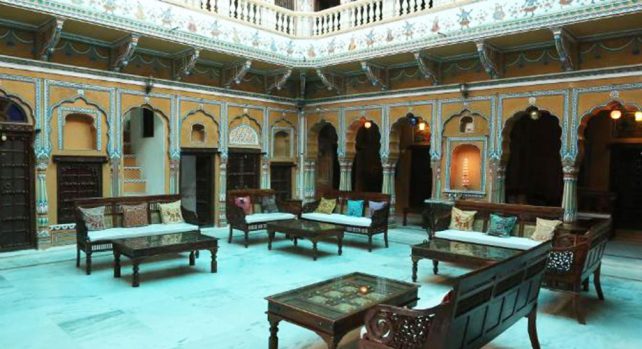 This hotel is suited in Mandawa (Rajasthan). This building is 180-250 years old with old fresco painting inside the haveli. All the rooms and restaurant have heritage paintings. Radhika Haveli featuring luxuriously decorated rooms and suits. This is a beautiful quaint hotel in an old Haveli. Intricately painted furnished with period furniture. Hotel Radhika Haveli is a delightful,affordable and comfortable with wonderful hosts. It is in a good location and its personalized service and warm Rajasthani hospitality make the guests fell at home. Once we open its door we fell
Our Guests
{"number_of_column":"2","number_of_column_desktop":"2","number_of_column_small_desktop":"2","number_of_column_tablet":"1","number_of_column_mobile":"1","auto_play":"true","auto_play_speed":"3000","scroll_speed":"600","pause_on_hover":"true","infinite_loop":"true","navigation":"true","pagination":"true","swipe_on":"true","mouse_draggable":"true","rtl_mode":"false"}
Shukhwinder Singh
Here's atmosphere and men are very good. One of my best visit forever.
Rahul Singh
Ghar se dur – apne Ghar se dur – pariwar Ghar se dur – dost yar Ghar se dur – ghar!!! yahi hai Radhika Haveli ka sach! Sada prem aur shubhkamnao sahit
K.K.Raina
It was a great stay is own possible way. Combination, old and modern facilities in the stay of today Tourist or people like us, comfortable like home . The most Jaipur ,thing is that people running place shower warmth and that is unforgettable. Would like to come here again & again.
Hrishitaa Bhatt
Excellent stay, Felt at home. Very warm hospitality & hope to keep coming back we again & again. Keep way the good work.
Mona Singh
Thank you very much for your service and love I really enjoyed my stay at Radhika…. Now would love to come with my family and stay here…. I love to the entire staff and to my brother Shrikant ji..
Adil Hussain
It was one of my best Hotel experiences ever in my life, Most warm and one of most affection hospitality have ever remind so far. Hope the hotel maintains its service .The way it is now in future I will definitely recommend it to my friends.
Dr. Chandraprakash Dwivedi
"Radhika Haveli" is a home away from home. Now I have another home called "Radhika Haveli" in Mandawa. The atmosphere is serve and peaceful .The people serving in the Haveli are curious and very "kind''. I recommence this place to all the visitors.

Danny
"big room very big bathroom and shower hi tech good restaurant and breakfast"

Mandira Kashyap
Our stay in Radhika Haveli was one of the most memorable experiences. In our almost 2 month stay we have felt like at home service –excellent people –excellent.